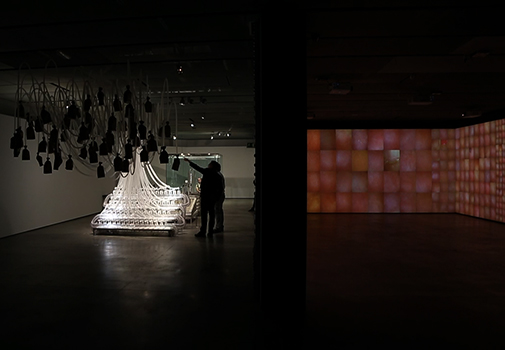 Rafael Lozano-Hemmer: Biometric Abstraction
Throughout his diverse artistic career, the work of Rafael Lozano-Hemmer finds its nucleus at the junction of architecture and performance art. Many pieces are about self-representation, intimacy, agency and the key idea that absence and presence are not mutually-exclusive opposites. The content of his work is often derived from participation, typically through technologies that are both violent and seductive.
The focus of this exhibition of new and recent work is the artist's interest in biometrics, the statistical analysis of biological data. The works detect, sample and process signs of life: embodying, materializing and accumulating traces of human presence. All of the installations are conceptually rooted in emotionally evocative biometrics that include the beating heart, the breath, physiognomy, kinesiology and the keystone of human communication, the voice.
The individual museum-goers breath, movement, speech, facial features and pulse, form the content of the installations on view; reminiscent of the significance of not only our solitary selves, but of the relationship of the individual to the greater whole of our complex connected lives.
The work is produced with technologies both high and low including biometric sensors, LED lights, custom software, and robotics... not to mention air, paper bags and people. However the use of these and other technologies are very intentionally presented from a context where technology is universally unavoidable and pervasive throughout every facet of our culture, society and politics.
As the artist often asserts, technology is, at its essence, the very language of globalization and is now "natural and normalized" and not an influence that any human being or artist of any genre is functioning outside of any longer. Likewise, the historical references of Lozano-Hemmer's practice, often evoked, — including the likes of the Mexican Estridentista poets, the articulated sculptures of Gyulia Kosice, the art of instructions of Sol LeWitt, and Intermedia Fluxus performances— continue to underscore a practice situated in a century-long history of experimentation of which it is firmly rooted in its continuum.
In Lozano-Hemmer's own words on this particular exploration of his work on view he says "I want to create platforms for self-representation. My work is incomplete and experimental in nature. The platforms require people to participate, they require people to be aware of the effects and constraints and then take the piece in a direction that suits them. We use technology to create environments where the content itself is crowd-sourced, where people are an integral part of the artwork and who in fact are leaving behind a memory of the event. To alter Frank Stella's minimalist quip "What you see is what you get," we propose "what you give is what you get."
Curator: Kathleen Forde, Artistic Director, Borusan Contemporary, Istanbul.